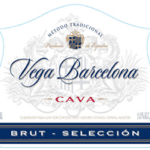 Viva Cava. Vega Barcelona!
Cava is Spain's answer to Champagne, a sparkling wine where the bubbles come from a secondary fermentation developing individually inside each bottle.  The name Cava, derives from the Spanish world for "cellar" where these wines were traditionally matured. Unlike Champagne, Cava is not tied to a region but is wedded to a process and can be made anywhere in Spain; however, the mountainous region of Penedes surrounding Barcelona is notable for the quality of its Cava.
Traditionally the three grapes used for Cava production are Macabeo, Xarello, and Parellada.  Vega Barcelona is made up of all three.  Each grape variety is harvested, fermented and vinified separately to allow for the differences in ripening dates and quality development. First fermentation takes place in stainless steel tanks at 61-62 degrees for 7 to 10 days. Second fermentation is in bottles, following the Champagne (i.e. traditional) Method.
Vega Barcelona rests "sur lie", on the dead yeast cells for nine months to develop lovely mouthfeel and complexity.  The making of this wine is a labor intensive process and is a result you can taste in the glass.